Trico Viewport – Glass with Baffle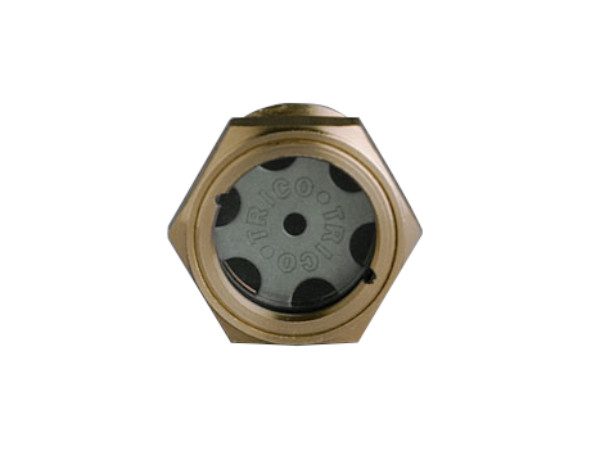 The Trico Viewport provides quick and easy inspection of the level as well as condition of lubricants within a sump housing. The baffle viewport is the right choice for turbulent conditions.
The viewport is available with either brass or zinc plated steel bodies to prevent corrosion. Easy removal of the lens in the field for cleaning, expanding the lifespan and cutting the cost of replacing the whole unit.
| Model Number | Description | Material | Connection | Dim A | B | C |
| --- | --- | --- | --- | --- | --- | --- |
| 34305 | Viewport | Steel | 1/2 NPT | 7/8" | 1/2" | 1-3/32" |
| 34306" | Viewport | Steel | 3/4 NPT | 1-1/8" | 3/4" | 1-1/8" |
| 34307 | Viewport | Steel | 1 NPT | 1-5/16" | 1" | 1-1/4" |
| 34308" | Viewport | Steel | 1-1/4 NPT | 1-3/4" | 1-1/4" | 1-5/16" |
| 34309 | Viewport | Steel | 1-1/2 NPT | 2" | 1-1/2" | 1-11/32" |
| 34341" | Viewport | Brass | 1/2 NPT | 7/8" | 1/2" | 1-3/32" |
| 34342" | Viewport | Brass | 3/4 NPT | 1-1/8" | 3/4" | 1-1/8" |
| 34343 | Viewport | Brass | 1 NPT | 1-5/16" | 1" | 1-1/4" |
| 34344" | Viewport | Brass | 1-1/4 NPT | 1-3/4" | 1-1/4" | 1-5/16" |
| 34345 | Viewport | Brass | 1-1/2 NPT | 2" | 1-1/2" | 1-11/32" |
Available in Brass or Zinc Plated Steel body
Removable Lens to allow for cleaning and servicing, eliminating costly unit replacment
A Wide Range of Thread Sizes are Available
| | |
| --- | --- |
| Body | Brass or Zinc Plated Steel |
| Window | Glass |
| Max. Operational Temp. | 300ºF / 149ºC |
| Maximum Pressure | 50 PSI / 3.5 bar |
| Seal | Viton® |