New oil is not clean oil. Although you may have read or heard that many times, you would be amazed by the lack of filtration equipment usage for pre-filtering or continuous filtration of dirty processes or environments.
Filtration is essential to all machinery's long-term reliability and hence one of the reasons why RO-QUIP has been supplying high quality and market-leading filtration units for several years.
Featured Filtration Partners and Products
Click the arrows for the brands below to see the featured models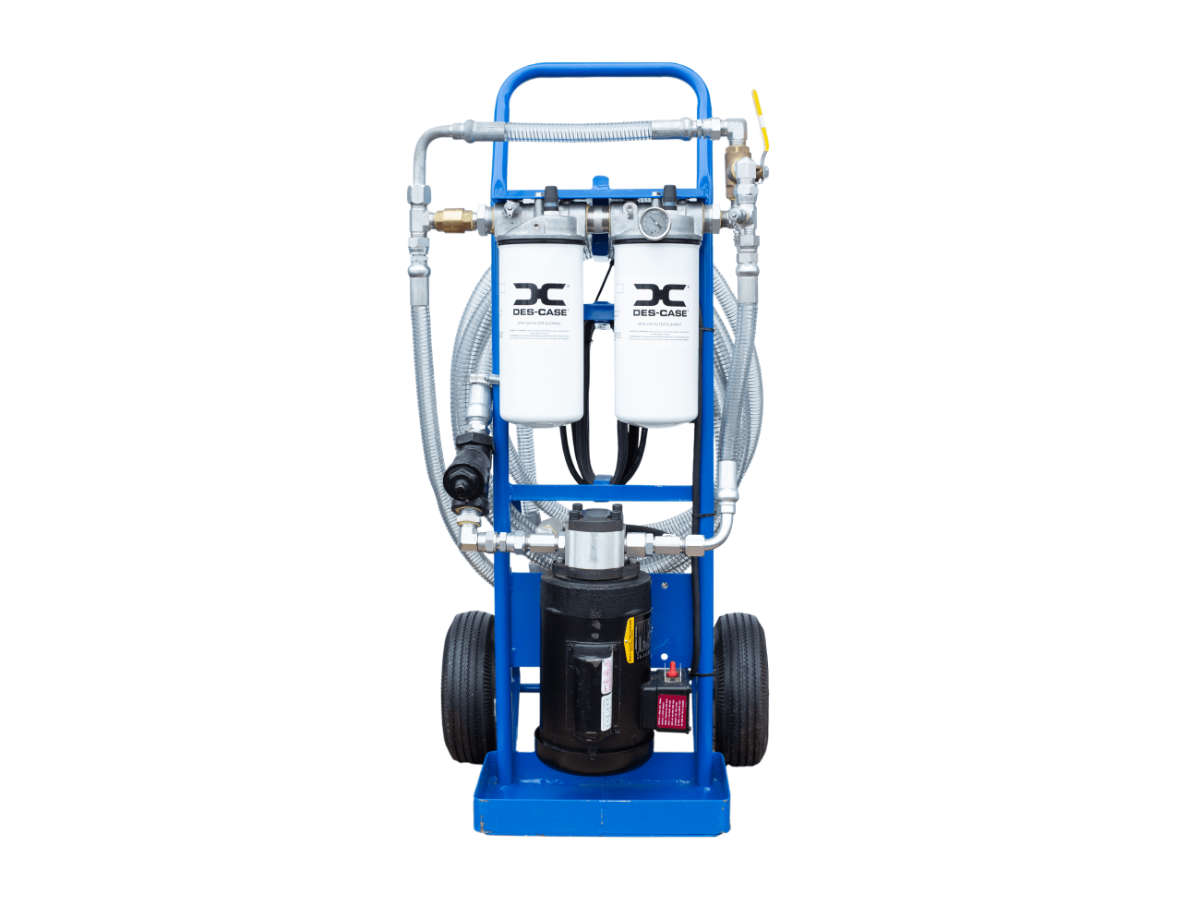 Des-Case portable filter carts are perfect for small to medium equipment reservoirs requiring low flow rates. They can filter mineral based industrial lubricants and many synthetic oils with a maximum viscosity of ISO VG 680 @ 40&degC.
Features:
Good standard 'off-the-shelf' designed mobile cart with a wide choice of options
Dual-stage spin-on filtration
Pneumatic tyres for ease of mobility
Pop-up 'change-filter' indicators
Filter media options from β5[C] ≥ 1000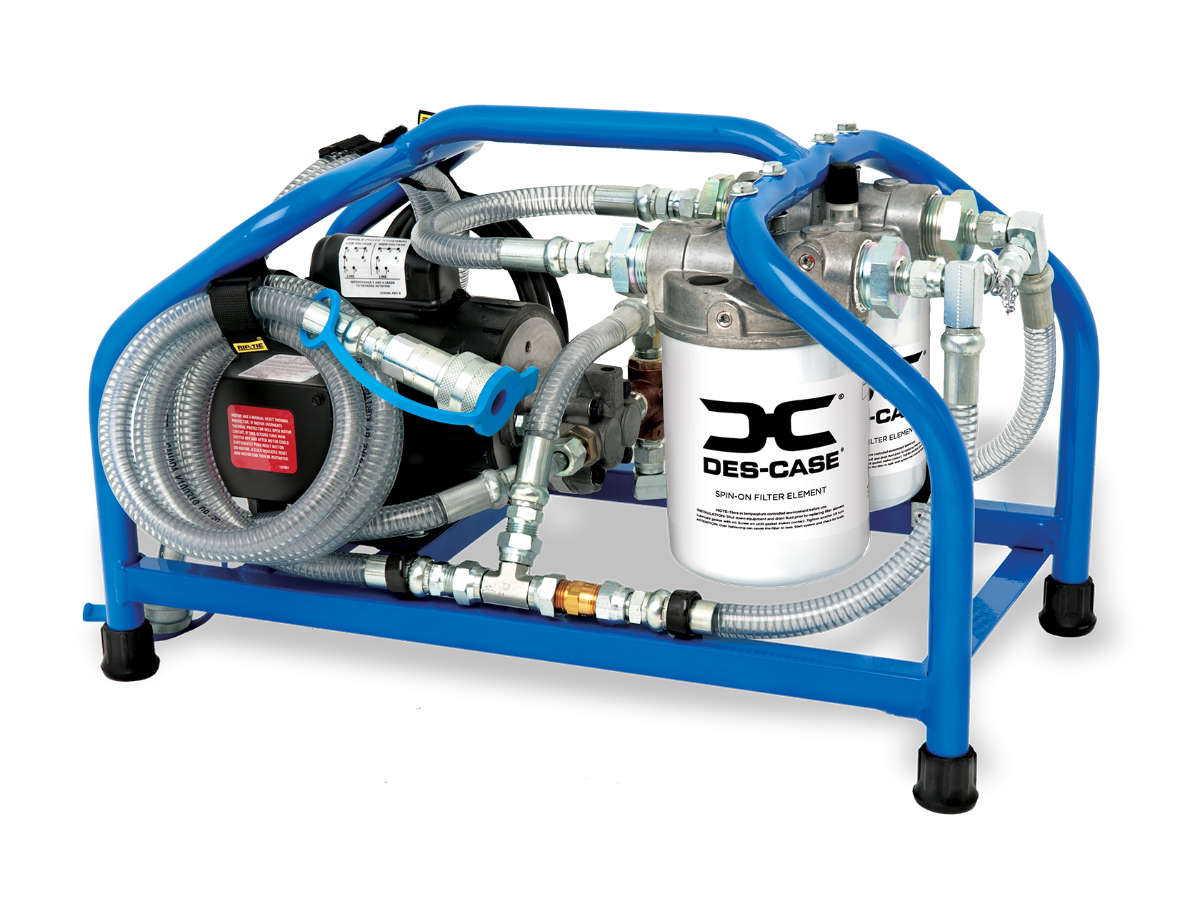 Ideal for transferring oil direct from the drum (designed to sit on top) or topping-up of equipment.
Pneumatic or electric motor drives
Filter media options from β5[C] ≥ 1000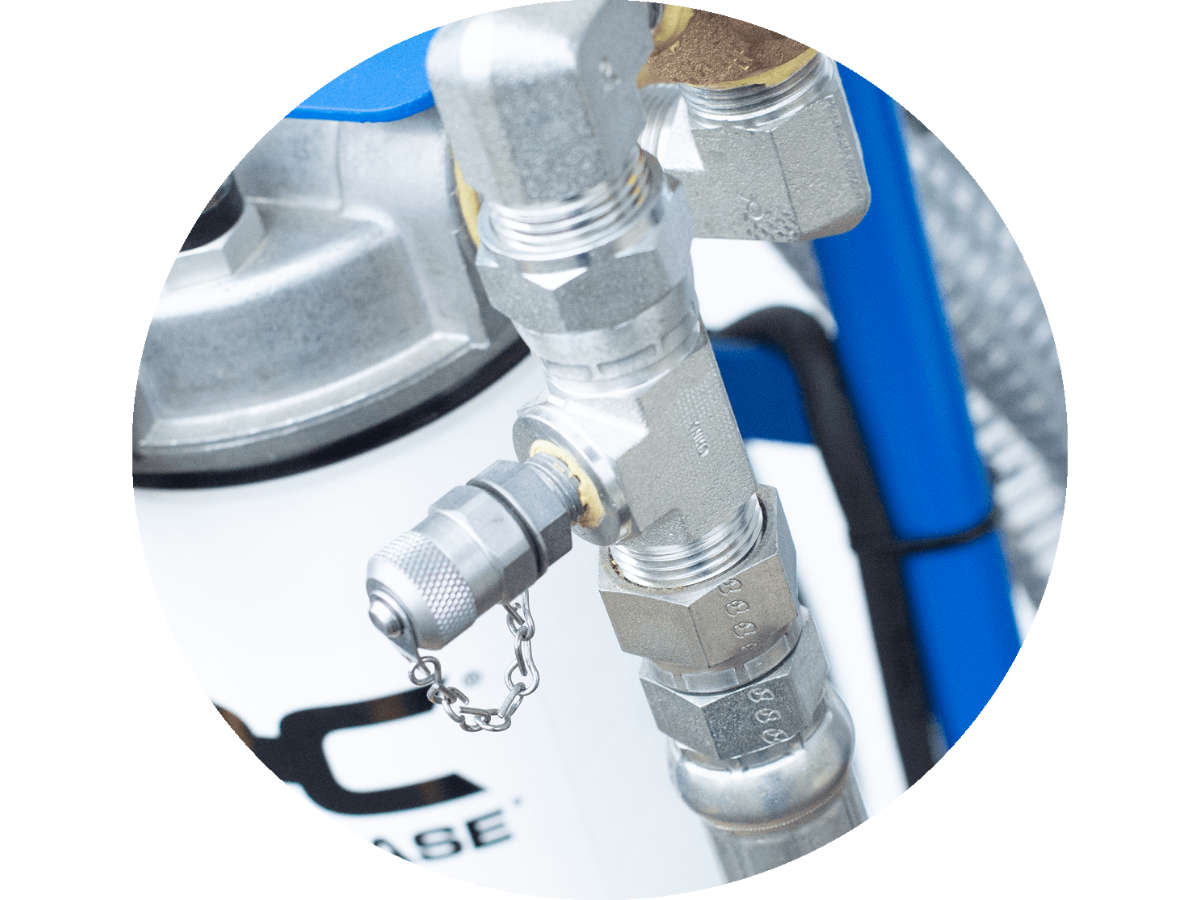 Des-Case filter units have a wide choice of options including:
CE marking
Ex-proof drives
Different Quick Disconnect (Female) hose ends
Particulate filter media options from β5[C] ≥ 1000
Water coalescing filter element
Manual filter by-pass for waste oil transfer
Oil Sampling valves; low or high viscosity types
Y-strainer
Various frame colours
Click on the links below to customise your filter cart or drum topper scope of supply: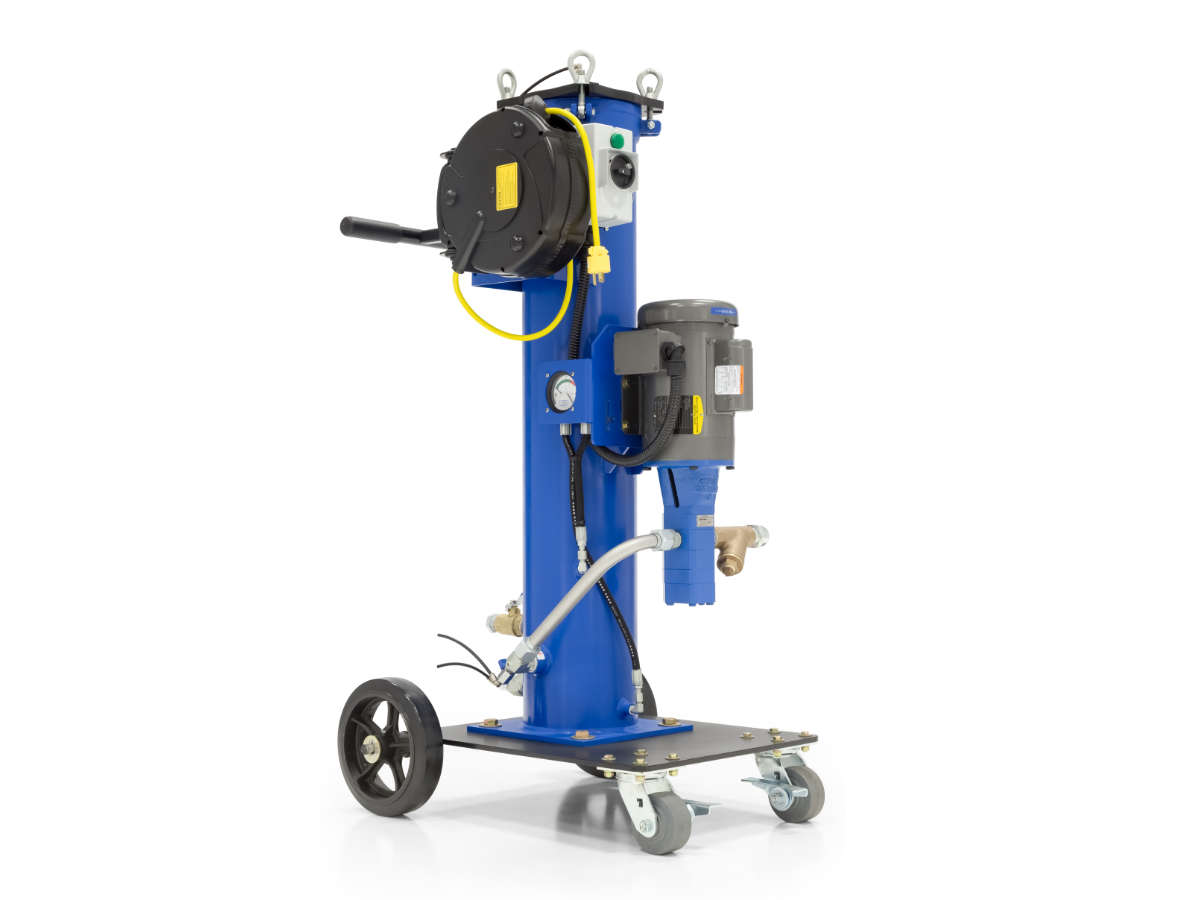 Hy-Pro probably offers the widest choice of mobile filtration equipment in both standard and bespoke designs to suit all industry needs.
The filter cart is perfect for bulk oil handling and reservoir or gearbox conditioning, and the large coreless filter provides excellent dirt holding capacity and long life span.
The unit is suitable for high viscosity oils and highly contaminated fuels or hydraulic oils, subject to flow rate and media choices – consult us for guidance.
The cart comes fully customisable including:
Ex-proof motors
Particle monitoring
UL or CE markings
Filter media options from β3[C] ≥ 4000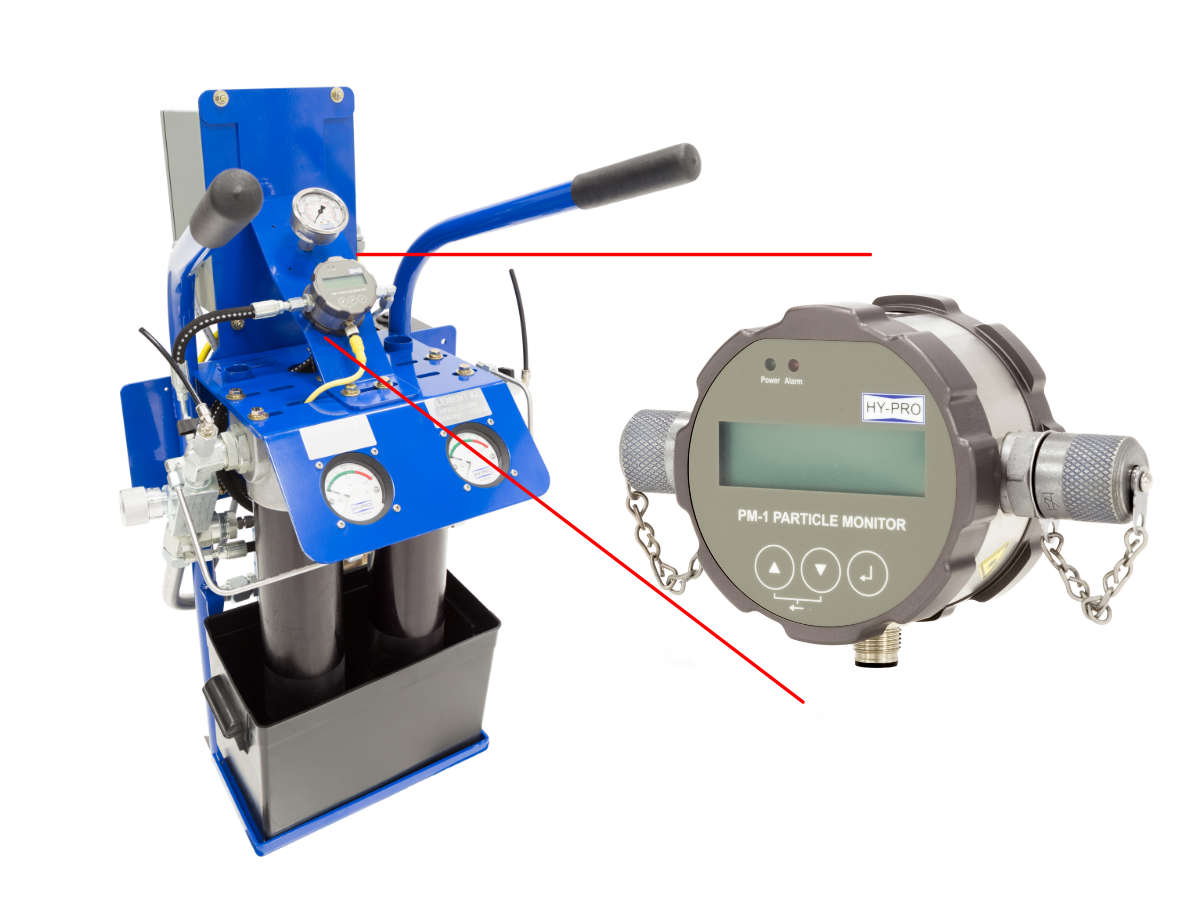 The PM-1 online particle monitor mounted permanently on the filtration system features:
Fast & accurate ISO 4406 cleanliness code readings
Savings on resources as well as laboratory oil analysis using the same test
Works in real-time and has the ability to link with a PC or a control panel for data storage & alarm triggering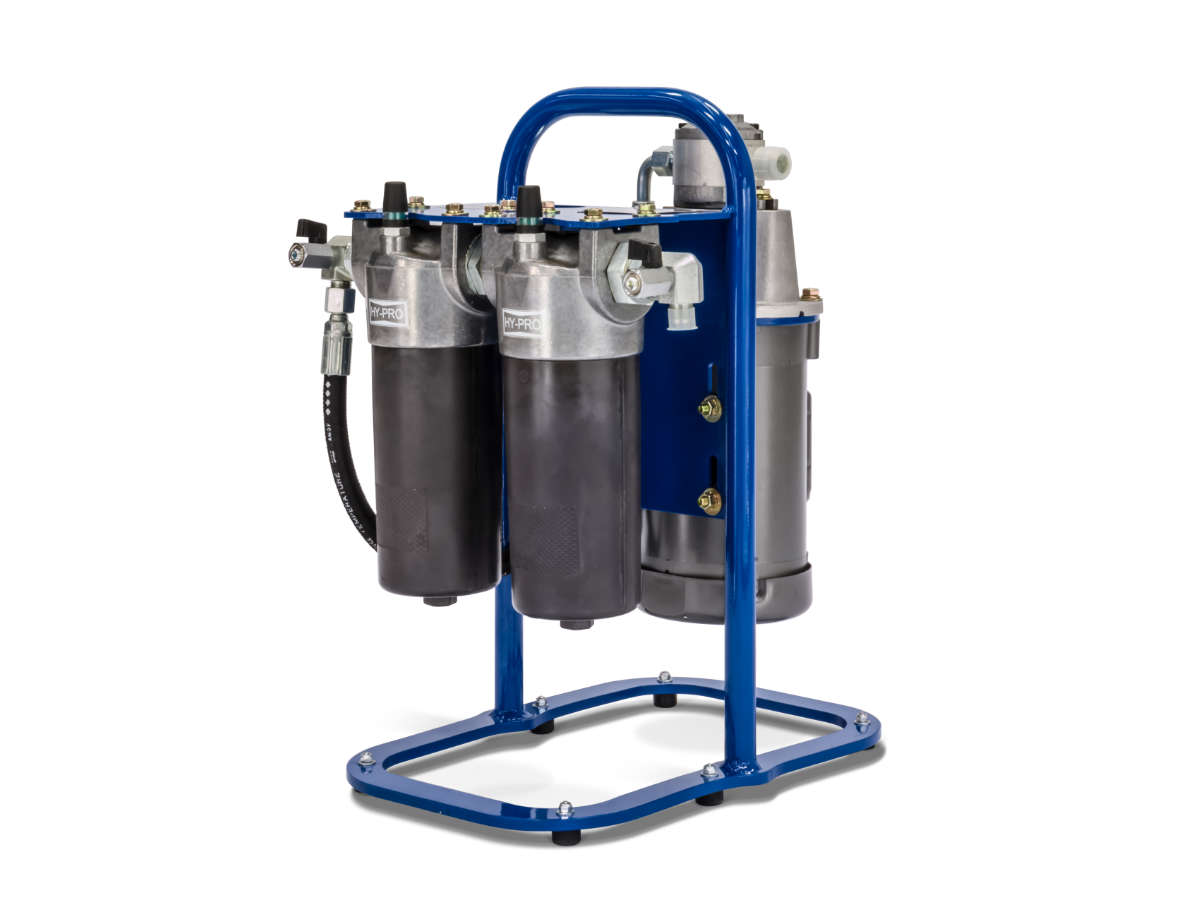 Use the CFU for transferring oil directly from the drum (sits on drum top) or to top-up equipment with limited surrounding space.
The unit features six element configurations, including the heavy-duty MF-3.
Filter media options are from β3[C] ≥ 4000.
The Trico High viscosity filter cart can handle oil viscosities up to ISO VG 1600 (@ 40DegC) typically higher than other brands of standard 'off-the-shelf' filter cart designs.
Ideal for gearbox applications this high viscosity filter cart offers a wide range of options:
Has an electric motor or a pneumatic drive
Two different flow rates: 1 and 4 gpm for the electrically driven pump or 3 gpm for the pneumatic drive.
Oil Sampling ports
Filter media options β3[C], β10[C] and β20[C] ≥ 200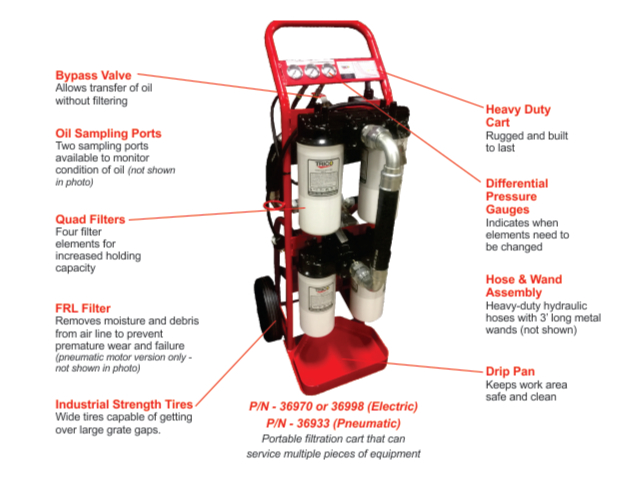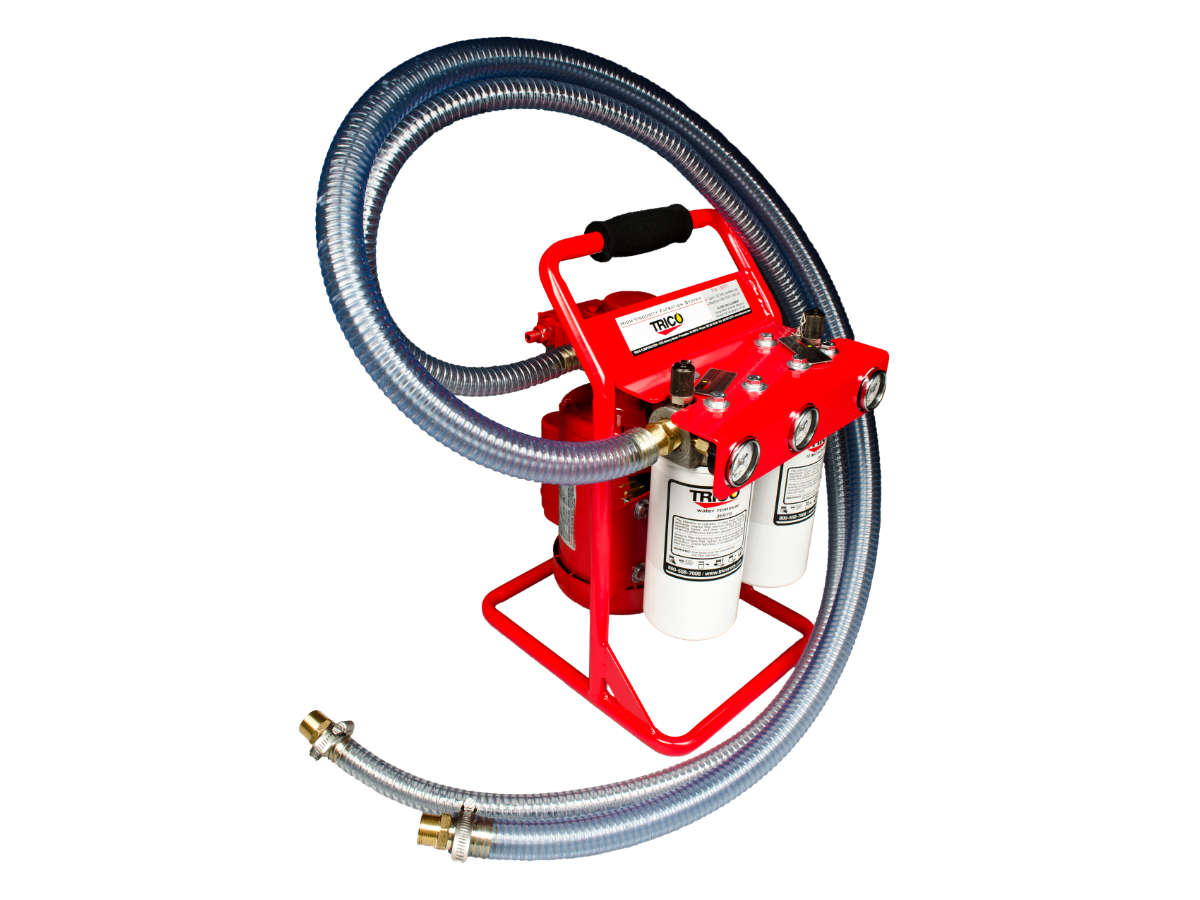 The hand-held filter cart features two-stage filtration for increased equipment lifespan:
The primary filter removes the course particulate, whereafter the oil flows through the secondary filter that ensures the removal of fine particulate and water.
Trico supplies a variety of filter media elements to ensure recommended manufacturer cleanliness levels are met.
Trico also offer low viscosity filter carts, check with us for further details.