Des-Case Oil Sight Glass Level Monitor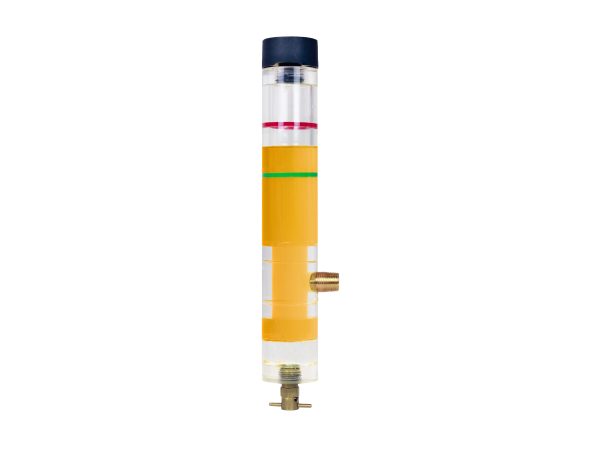 Use the Oil Sight Glass Level Monitor (OSGL) when there is a need for frequent and fast observation of reservoir oil level as well as the colour, clarity and presence of contaminants in the oil.
The OSGL comes in various lengths from 3" (7.5 cm) up to 24" (61 cm), allowing for different installation distances from the reservoir access port as well as the maximum height the oil can reach.
Use the dual-port for installation of a sample tube opposite the installation nipple in order to draw representative oil samples without the risk of outside contamination.
| Part Number | Level Monitoring Area | Overall Length |
| --- | --- | --- |
| | Single Port | |
| DC-OSGL3 | 3 in / 7.62 cm | 6.75 in / 17.15 cm |
| DC-OSGL6 | 6 in / 15.24 cm | 9.75 in / 24.77 cm |
| DC-OSGL9 | 9 in / 22.86 cm | 12.75 in / 32.39 cm |
| DC-OSGL12 | 12 in / 30.48 cm | 15.75 in / 40.01 cm |
| DC-OSGL15 | 15 in / 38.10 cm | 18.75 in / 47.63 cm |
| DC-OSGL18 | 18 in / 45.72 cm | 21.75 in / 55.25 cm |
| DC-OSGL24 | 24 in / 60.96 cm | 27.75 in / 70.49 cm |
| | Dual Port | |
| DC-OSGL3DP | 3 in / 7.62 cm | 6.75 in / 17.15 cm |
| DC-OSGL6DP | 6 in / 15.24 cm | 9.75 in / 24.77 cm |
| DC-OSGL9DP | 9 in / 22.86 cm | 12.75 in / 32.39 cm |
| DC-OSGL12DP | 12 in / 30.48 cm | 15.75 in / 40.01 cm |
| DC-OSGL15DP | 15 in / 38.10 cm | 18.75 in / 47.63 cm |
| DC-OSGL18DP | 18 in / 45.72 cm | 21.75 in / 55.25 cm |
| DC-OSGL24DP | 24 in / 60.96 cm | 27.75 in / 70.49 cm |
Material
Des-Case ND-2 breather 0.3μ absolute (ß0.3≥1000)
Stain-resistant, transparent acrylic column
Brass fittings standard
Chemical Compatibility
All minieral and synthetic oils
Maximum Operational Pressure
Recommended Temperature Range
-40˚F to 200˚F
-40˚C to 93˚C
Available Options
3/8" NPT single port or dual ports
Lengths ranging from 3" (7.5 cm) to 24" (61 cm)
Stainless steel fittings
Magnetic drain valve to collect ferrous material
Applications
Storage Tanks
Pumps
Gearboxes