Des-Case Oil Level Indicator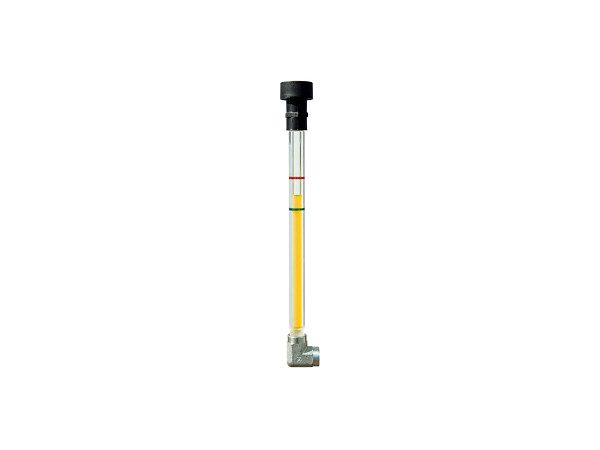 Trico developed the Oil Level Indicator (OLI) for easy and direct monitoring of oil levels in reservoirs, large tanks and gearboxes. The OLI unit features a transparent acrylic column with NPT threads at both ends.
We supply red and green level marker stickers together with the Oil Level Indicator. They are used to indicate either upper and lower limits or running and idle oil levels, respectively. Use the drain port for visually monitoring the fluid level of reservoirs.
Stainless steel fittings, as well as breather caps, may be purchased separately.
| Model Number | Description | Overall Length | Diameter of Column |
| --- | --- | --- | --- |
| DC-OLI3 | 3" OLI - 1/2" MNPT X 1/2" MNPT | 3 inch (7.62 cm) | 0.875 inch (2.223 cm) |
| DC-OLI6 | 6" OLI - 1/2" MNPT X 1/2" MNPT | 6 inch (15.24 cm) | 0.875 inch (2.223 cm) |
| DC-OLI9 | 9" OLI - 1/2" MNPT X 1/2" MNPT | 9 inch (22.86 cm) | 0.875 inch (2.223 cm) |
| DC-OLI12 | 12" OLI - 1/2" MNPT X 1/2" MNPT | 12 inch (30.48 cm) | 0.875 inch (2.223 cm) |
| DC-OLI15 | 15" OLI - 1/2" MNPT X 1/2" MNPT | 15 inch (38.10 cm) | 0.875 inch (2.223 cm) |
Material
Stain-resistant and transparent acrylic
Recommended Temp. Range
-40˚F to 200˚F
-40˚C to 93˚C
Maximum Operational Pressure
Chemical Compatibility
All mineral and synthetic oils
Available Options
Lengths ranging from 3" (7.6 cm) to 15" (38 cm)
Fittings of stainless steel
2 micron breather cap (3" to 12" models)
Custom lengths are available as requested
Applications
Pumps
Storage Tanks
Gearboxes