Des-Case IsoLogic™ Breathers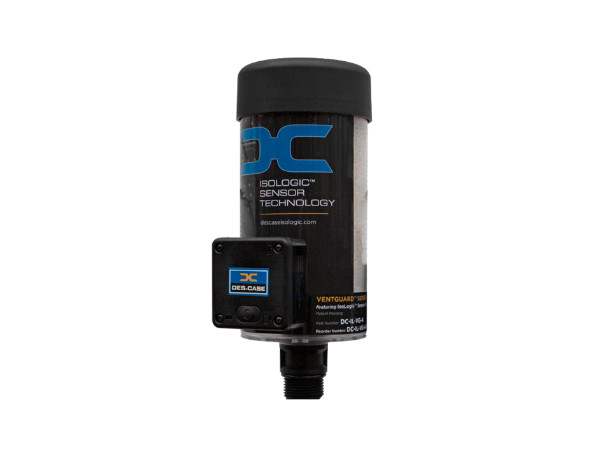 Implementing the IsoLogic Sensor Technology will significantly benefit any equipment reliability program by the detection and recording of spikes in humidity and water ingress. Maintain operational efficiency with less downtime and the subsequent loss of income by upgrading your installation with these superior breathers.
As opposed to all other breathers in the market, the IsoLogic breather does not depend on a change of colour in the desiccant beads to determine the correct time for replacement.
The IsoLogic breathers are ideal for installation in remote and hard-to-access places, eliminating possible injuries as well as reducing time spent on required and regular monitoring of ordinary breathers.
The web platform allows easy monitoring of status and trends from literally anywhere, being it in the office, at home, or even on a plane.
| Specs / Model | DC-IL-VG-1 | DC-IL-VG-4 |
| --- | --- | --- |
| Unit Height | 5.31 in / 134.9 mm | 10.125 in / 257.2 mm |
| Unit Diameter | 2.52 in / 64.01 mm | 4 in / 101.6 mm |
| Connection Size | 3/8 inch Multi-fit (NPT, BSPP & BSPT) | 1 inch Multi-Fit (NPT, BSPT & NPSM) |
| Silica Gel Amount | 0.28 lbs / 0.127 kg | 1.88 lbs / 0.85 kg |
| Adsorption Capacity | 1.68 fl oz / 49.7 ml | 11.3 fl oz / 353 ml |
| Max. Flow Rate @ 1 psid | 1.45 cfm | 2.98 cfm |
| | 41 lmp | 84 lpm |
| Filter Efficiency | 3µ abs. (β₃≥200) | 3µ abs. (β₃≥200) |
| Operational Temp. Range | -4°F to 129°F | -4°F to 129°F |
| | -20°C to 54°C | -20°C to 54°C |
Sensors & Connectivity
View breather status as well as trend data using the web platform anywhere, at anytime
Detection and recording of spikes in humidity and water ingress
Sensors in the breather provide a digital and precise reading of the remaining breather life, temperature as well as saturation direction
Reduce scheduled, time-consuming lubrication routes through the usage of RFID and Bluetooth technology for a combined data collection on multiple breathers by syncing them with the IsoLogic app
Eliminate the risk of workplace injuries when monitoring breathers installed in remote or hard-to-access places
Desiccant Breather
Removes moisture in equipment headspace
Minimizes wear and tear on equipment, extending the lifespan
Stops ingress of contamination
Eliminates condensation that forms rust
Prevents deposit of sludge as well as water-contaminated oil
Extends the lifespan of lubricants
Module Materials & Comp.
Casing in polycarbonate & Steel (ball plunger)
Cap in thermoplastic elastomers (TPE) & Steel (screws)
Circuit board with LED lights & FR4 Fiberglass
1.5V alkaline AAA batteries (Manganese Dioxide, Zinc, Potassium Hydroxide, Graphite)
Module Battery and Power
3 AAA Batteries (each rated 1.5 V, d.c., Max 1200 mAh)
Voltage: 4.5 V d.c.
Current: 30 mA (operational)
Expected Lifespan: 2 years (depending on use & temp.)
Module Environment
For indoor as well as outdoor use
Altitude <= 16,400 ft / 5,000 m
Max. Relative Humidity is 100% @ up to 129°F / 54˚C
Dustproof & Waterproof (IP66)
Not rated for hazardous locations
FCC, CE, Reach & RoHS
Wireless Syncing
2402.0 to 2480.0 MHz Bluetooth 4.0 Low Energy
13.56 to 13.56 MHz RFID
Communications Range: 100 ft / 30 m (line of sight)
Device Compatibility
Android
Bluetooth 4.0 or higher
Android OS 5.0 or higher
Apple
iOS 10.0 or higher
Data Storage
Data readings every hour
Stores a year of hourly data points
| Model No. / Specs | Max. Airflow @ 1 PSID | Gearbox / Storage Tank | Hydraulic Reservoir |
| --- | --- | --- | --- |
| DC-IL-VG-1 | 1.45 cfm | 35 gal | 5 gal |
| | 41.06 lpm | 132 l | 19 l |
| DC-IL-VG-4 | 1.8 cfm | 500 gal | 200 gal |
| | 50.9 lpm | 1893 l | 757 l |
| Part No. | Description |
| --- | --- |
| DC-10-S | 1 inch FNPT x 1 inch Slip Fit Adapter |
| DC-10 | 1 inch Threaded Adapter |
| DC-10-T | 1 inch Male Threaded x 1 inch Female Threaded Adapter |
| DC-17 | Bell Reducer 1 inch to 3/4 inch - Slip Fit |
| DC-17-T | 1 inch - 3/4 inch Female to Male Threaded Adapter |
| DC-18 | 1 inch - 1/4 inch Brass, Threaded Reducer/Adapter |
| DC-12-T | Threaded Flange Adapter |
| DC-12-TG | Threaded Flange Adapter with Gasket |
| DC-15-T | Bayonet Adapter |
| DC-SDVA-12M | 3/4 inch NPT Vent Valve Adapter for Standard and VentGuard Breathers |
| DC-SDVA-16M | 1 inch NPT Vent Valve Adapter for Standard and VentGuard Breathers |