Trico Streamliner DC Grease Dispenser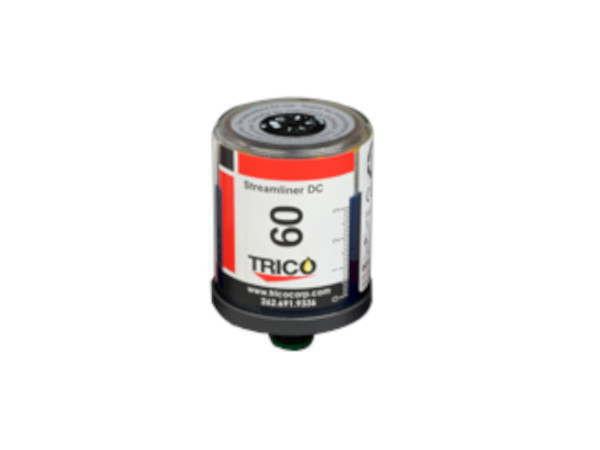 With the Streamliner DC automatic single-point grease lubricator, maintenance professionals are able to keep equipment lubricated timely and correctly. The basis of the Streamliner DC lubricator's solid reliability is the cutting-edge, adjustable gas generating power source. It produces gas that creates a consistent pressure on the piston, which gradually and continuously dispenses the lubricant contained in the chamber.
Set the delivery time with a simple turn of the Allen key on top of the unit. The dispensing time of the Streamliner DC unit can be set between one and twelve months, thus allowing complete control over the amount of lubricant applied. Check the rate of delivery with a single glance at the transparent housing.
The light-weight and compact design of the Streamliner DC allows for installation in almost any place and any position, even underwater.
| Model No. | Description | Grease Capacity | Grease Type | NLGI# | Thickener Type |
| --- | --- | --- | --- | --- | --- |
| 33902 | Streamliner DC | 30 cc / 1 oz | Mobilgrease XHP 222 | 2 | Lithium Complex |
| 33903 | Streamliner DC | 30 cc / 1 oz | Exxon Unirex EP 2 | 2 | Lithium Complex |
| 33904 | Streamliner DC | 30 cc / 1 oz | Mobilith SHC 100 | 2 | Lithium Complex |
| 33905 | Streamliner DC | 30 cc / 1 oz | Mobilgrease FM 222 | 2 | Aluminum Complex |
| 33906 | Streamliner DC | 30 cc / 1 oz | Mobilith SHC 220 | 2 | Lithium Complex |
| 33907 | Streamliner DC | 30 cc / 1 oz | Mobilith SHC PM 460 | 1.5 | Lithium Complex |
| 33908 | Streamliner DC | 30 cc / 1 oz | Mobil Polyrex EM | 2 | Polyurea |
| 33922 | Streamliner DC | 60 cc / 2 oz | Mobilgrease XHP 222 | 2 | Lithium Grease |
| 33923 | Streamliner DC | 60 cc / 2 oz | Exxon Unirex EP 2 | 2 | Lithium Complex |
| 33924 | Streamliner DC | 60 cc / 2 oz | Mobilith SHC 100 | 2 | Lithium Complex |
| 33925 | Streamliner DC | 60 cc / 2 oz | Mobilgrease FM 222 | 2 | Aluminum Complex |
| 33926 | Streamliner DC | 60 cc / 2 oz | Mobilith SHC 220 | 2 | Lithium Complex |
| 33927 | Streamliner DC | 60 cc / 2 oz | Mobilith SHC PM 460 | 1.5 | Lithium Complex |
| 33928 | Streamliner DC | 60 cc / 2 oz | Mobil Polyrex EM | 2 | Polyurea |
| 33942 | Streamliner DC | 125 cc / 4 oz | Mobilgrease XHP 222 | 2 | Lithium Complex |
| 33943 | Streamliner DC | 125 cc / 4 oz | Exxon Unirex EP 2 | 2 | Lithium Complex |
| 33944 | Streamliner DC | 125 cc / 4 oz | Mobilith SHC 100 | 2 | Lithium Complex |
| 33945 | Streamliner DC | 125 cc / 4 oz | Mobilgrease FM 222 | 2 | Aluminum Complex |
| 33946 | Streamliner DC | 125 cc / 4 oz | Mobilith SHC 220 | 2 | Lithium Complex |
| 33947 | Streamliner DC | 125 cc / 4 oz | Mobilith SHC PM 460 | 1.5 | Lithium Complex |
| 33948 | Streamliner DC | 125 cc / 4 oz | Mobil Polyrex EM | 2 | Polyurea |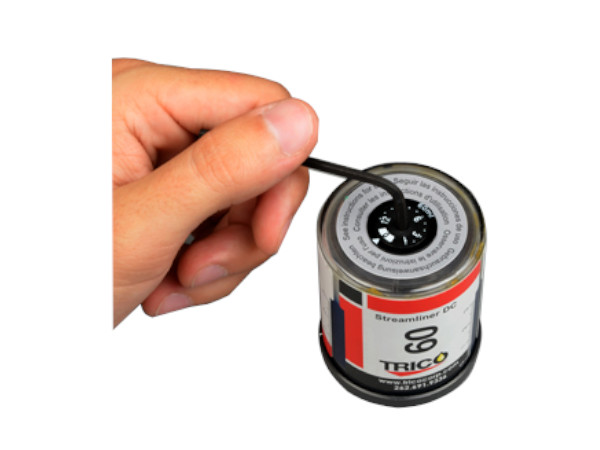 Easy to install and put into operation
Powered by a patented gas-generating, dry cell
Set the delivery time from 1 to 12 months to reduces inventory costs, i.e. fewer units need be available
Quickly check the lubricant level in the transparent chamber
Sealed point of contact prevents contamination with dirt and water – submersible in any direction
Easy adjustment of dispensing rate during operation
Environmentally friendly
Can be temporarily deactivated
Custom filling with grease or oil is available
Intrinsically safe – II IG Ex ia IIC T6, II 1D Ex Ia D 20T 80C, and I M1 Ex ia I
Ingress Protection – IP68 (dustproof and waterproof)
Grease Capacity
30, 60, or 125 cc
Power Generation
Hydrogen Gas Producing Dry Cells
Working Pressure
Maximum 72 PSI (5 bar)
Dispensing Quantity
0.08 – 8.3 cc/day
Operating Temperature
-4ºF to 131ºF (-20ºC to 55ºC)
Six Standard Greases
Mobilgrease XHP 222
Exxon Unirex EP2
Mobil SHC 100
Mobilgrease FM 222
Mobilith SHC 220
Mobilith SHC PM 460
Thread Size
1/4″ NPT