Trico Streamliner 500 cc Grease Dispenser
Large Electro-Mechanical Unit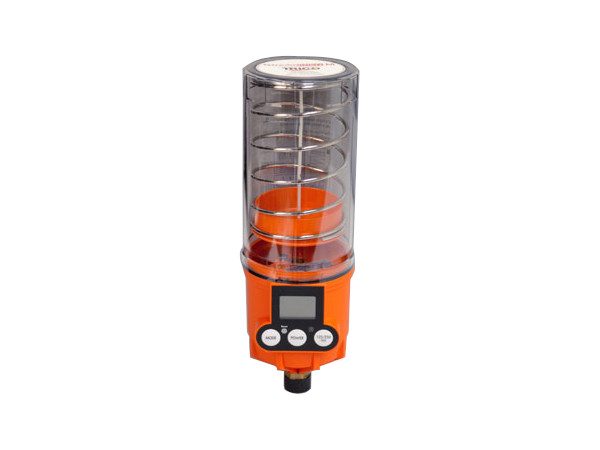 The Streamliner M family has been expanded with a unit offering a vast reservoir of a 500 cc (16 oz) capacity. This unit is thus ideal for multi-point lubrication as well as lubrication of large size bearings. Compared to the 125 cc (4 oz) and 250 cc (8 oz) units, the larger reservoir volume of the 500 cc (16 oz) unit means lesser needs for replacement of grease cartridges – with a subsequent savings of manpower.
The "Service Packs" contain a customized 500 cc (16 oz) grease pouch as well as a standard alkaline or high-performance lithium battery pack. Six conventional greases are available for the grease pack. See more information about the "Service Pack" below.
The Streamliner M 500 cc delivers an operational pressure of 280 psi (19 bar). The lithium battery pack allows for higher pressures, which makes the unit a perfect choice for multi-point lubrication. A single Streamliner M unit can service up to eight lubrication points when used together with Trico's Distribution Block.
Grease Capacity
500 cc / 16 oz
Power Supply
DC 4.5 Volt – replaceable)
Standard Alkaline Battery
Lithium Battery
Normal Operational Pressure
280 psi / 19 bar
Maximum Operational Pressure
800 psi / 55 bar
Unit Operational Temperature
Standard Battery: -15ºC – 60ºC / 5ºF – 140ºF
Lithium Battery: -40ºC – 60ºC / -40ºF – 140ºF
Dispensing Rates
Settings for half, 1, 2, 4, 6, 12, 18, 24 months
Six Standard Greases
1. Mobilgrease XHP 222
2. Exxon Unirex EP2
3. Mobil SHC 100
4. Mobilgrease FM 222
5. Mobilith SHC 220
6. Mobilith SHC PM 460
Lube Cycle
Approx. 20 sec. per stroke
Thread Size
3/8 NPT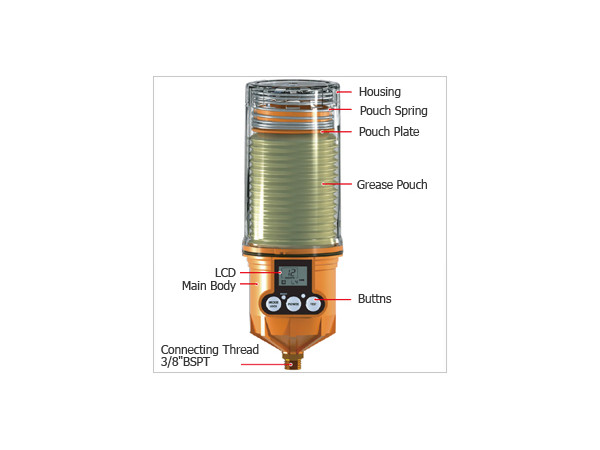 Easy to read LCD
Electro-mechanical driven with microprocessor control
Eight dispense rate settings: half, 1, 2, 4, 6, 12, 18, and 24 months
Can service up to to eight lubrication points
Alert for need for grease pouch and battery replacement
Alert for motor overloading along with date
Displays of days remaining until servicing
Immediate start and stop
Auto locking mode available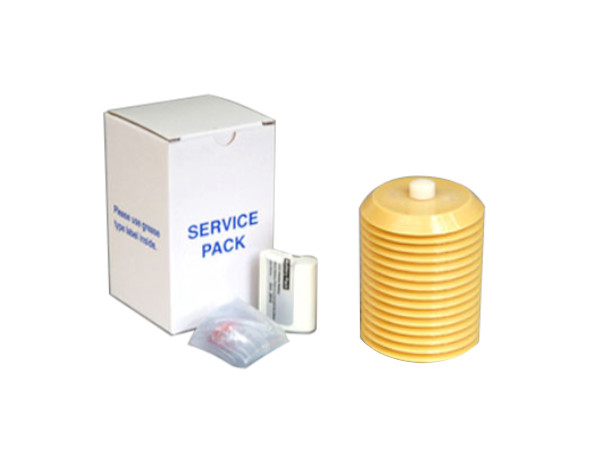 The replacement Service Packs for the Streamliner M 500cc Automatic Grease Dispenser contains a 500cc grease pouch, a battery pack as well as a disposable dust cover.
The grease pouch and battery pack must always be changed together to ensure continuous and reliable operation of the unit.
Feature
Standard
Lithium
Temperature
-10ºC – 50ºC14ºF – 122ºF
4ºC – 60ºC40ºF – 140ºF
Back Pressure
<= 280 psi
<= 19 bar
> 280 psi
> 19 bar
Distribution Block
N/A
Up to 8 lubrication points
Distance
<= 3 m / 10 ft
> 3 m / 10 ft
Options
| Model No. | Description | Battery | Grease Type | NLGI# | Thickener Type | Capacity |
| --- | --- | --- | --- | --- | --- | --- |
| 33412 | Service Pack | Standard | Mobilgrease XHP 222 | 2 | Lithium Complex | 500 cc / 17 oz |
| 33413 | Service Pack | Standard | Exxon Unirex EP2 | 2 | Lithium Complex | 500 cc / 17 oz |
| 33414 | Service Pack | Standard | Mobil SHC 100 | 2 | Lithium Complex | 500 cc / 17 oz |
| 33415 | Service Pack | Standard | Mobilgrease FM 222 | 2 | Aluminum Complex | 500 cc / 17 oz |
| 33416 | Service Pack | Standard | Mobilith SHC 220 | 2 | Lithium Complex | 500 cc / 17 oz |
| 33417 | Service Pack | Standard | Mobilith SHC PM 460 | 1.5 | Lithium Complex | 500 cc / 17 oz |
| 33418 | Service Pack | Lithium | Mobilgrease XHP 222 | 2 | Lithium Complex | 500 cc / 17 oz |
| 33419 | Service Pack | Lithium | Exxon Unirex EP2 | 2 | Lithium Complex | 500 cc / 17 oz |
| 33420 | Service Pack | Lithium | Mobil SHC 100 | 2 | Lithium Complex | 500 cc / 17 oz |
| 33421 | Service Pack | Lithium | Mobilgrease FM 222 | 2 | Aluminum Complex | 500 cc / 17 oz |
| 33422 | Service Pack | Lithium | Mobilith SHC 220 | 2 | Lithium Complex | 500 cc / 17 oz |
| 33423 | Service Pack | Lithium | Mobilith SHC PM 460 | 1.5 | Lithium Complex | 500 cc / 17 oz |