Trico Streamliner GL-P Grease Dispenser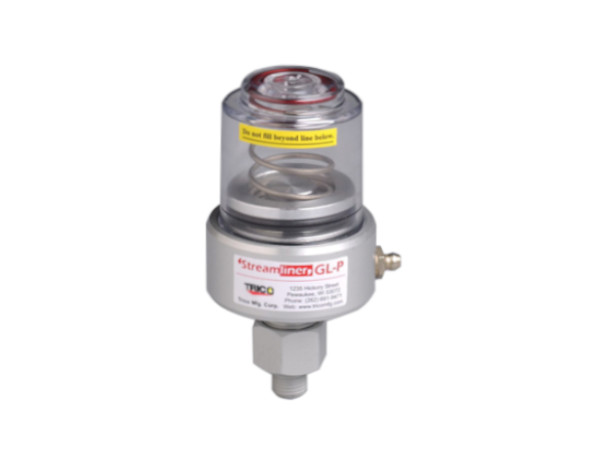 The Streamliner GL-P unit dispenses grease using a spring mechanism for controlled and automatic delivery of lubricant, eliminating reliance on manual lubrication and thus extending bearing life. The transparent, polycarbonate reservoir of the Streamliner GL-P unit allows for easy reading of the grease level.
The sturdy base made of anodized aluminium works well for demanding applications, and the standard zerk fitting makes refilling of greasy unproblematic. The Streamliner GL-P product includes springs of light, medium and heavy strength to facilitate the needed delivery rate.
| Model No. | Description | NPT | Capacity | Spring Force | Dim A |
| --- | --- | --- | --- | --- | --- |
| 33301 | GL-P Grease Dispenser | 1/8 | | Light, medium & heavy | 11.5cm / 4-1/2" |
| 33302 | GL-P Grease Dispenser | 1/4 | | Light, medium & heavy | 11.63cm / 4-5/8" |
| 33303 | GL-P Grease Dispenser | 3/8 | | Light, medium & heavy | 11.63cm / 4-5/8" |
| 33304 | GL-P Grease Dispenser | 1/2 | | Light, medium & heavy | 11.75cm / 4-3/4" |
Anodized aluminum base prevents corrosion and is well-suited for high vibration applications
Transparent, polycarbonate reservoir allows easy reading of grease level
Each unit comes with three different spring sizes for delivery rate adjustment
Mount in any position
Grease refill through the zerk fitting
| | |
| --- | --- |
| Maximum Operational Temp. | 100ºC / 212ºF |
| Spring Force | Light: 0.35 kg/cm2 / 5 psiMedium: 0.7 kg/cm2 / 10 psiHeavy: 1.05 kg/cm2 / 15 psiAll included with each model |
| Grease Capacity | Maximum 72 PSI (5 bar) |
| Dispensing Quantity | 71 cc / 2-1/2 oz |
| Suitable Greases | NLGI 0 – NLGI 3 |