Trico Atlas Gravity Feed Oilers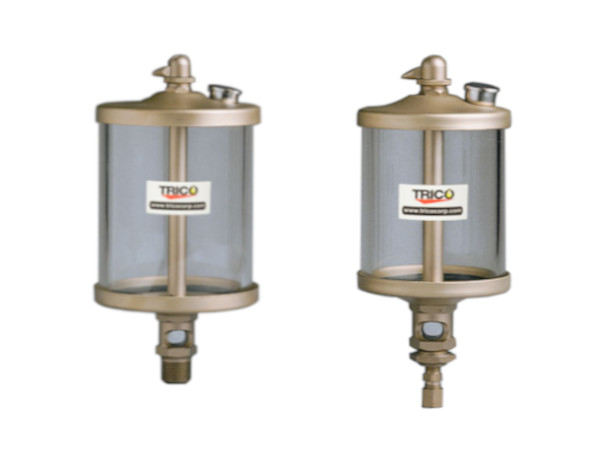 Take advantage of the Atlas Gravity Feed Oilers to fulfil the demand of larger oil capacity of heavy-duty applications and be able to adjust the flow rate.
Reservoirs and sights of the oilers are available in either acryl which allows for service temperatures up to 165°F / 74°C, or glass allowing a higher maximum temperature of 250°F / 121°C.
The ACL and AL oilers feature adjustable rates of oil flow used in bearing and machine lubrication. Adjust and control the drip rate easily with the built-in lock ring for maximum versatility.
Model
Number
Capacity
Reservoir
Connection
Dim A
Dim B
32016
1 qt / 0.95 l
Acrylic
3/4-16 inch mounting stud
4-7/16 in / 113 mm
5-5/16 in / 135 mm
32032
1 qt / 0.95 l
Acrylic
3/4-16 inch mounting stud
4-7/16 in / 113 mm
8-11/16 in / 135 mm
32080
2.5 qt / 2.37 l
Acrylic
3/4-16 inch mounting stud
5-11/16 / 144 mm
10-13/16 / 275 mm
32081
1 gal / 3.79 l
Acrylic
3/4-16 inch mounting stud
5-11/16 / 144 mm
15-7/8 / 403 mm
32117
1 pt / 0.95 l
Glass
3/4-16 inch mounting stud
4-7/16 in / 113 mm
5-5/16 in / 135 mm
32133
1 qt / 0.95 l
Glass
3/4-16 inch mounting stud
4-7/16 in / 113 mm
8-11/16 in / 135 mm
32181
2.5 qt / 2.37 l
Glass
3/4-16 inch mounting stud
5-11/16 in / 144 mm
10-13/16 in / 275 mm
Model
Number
Capacity
NPT
Connection
Reservoir
Dim A
Dim B
31416
1 qt / 0.95 l
3/8 inch
Acrylic
4-7/16 in / 113 mm
4-5/16 in / 110 mm
31417
1 qt / 0.95 l
1/2 inch
Acrylic
4-7/16 in / 113 mm
4-5/16 in / 110 mm
31432
1 qt / 0.95 l
1/2 inch
Acrylic
4-7/16 in / 113 mm
7-5/8 in / 194 mm
31480
2.5 qt / 2.37 l
1/2 inch
Acrylic
5-11/16 in / 144 mm
9-3/4 in / 248 mm
31481
1 gal / 3.79 l
1/2 inch
Acrylic
5-11/16 in / 144 mm
14-13/16 in / 378 mm
31517
1 qt / 0.95 l
3/8 inch
Glass
4-7/16 in / 113 mm
4-5/16 in / 110 mm
31518
1 qt / 0.95 l
1/2 inch
Glass
4-7/16 in / 113 mm
4-5/16 in / 110 mm
31543
1 qt / 0.95 l
1/2 inch
Glass
4-7/16 in / 113 mm
7-5/8 in / 194 mm
31581
2.5 qt / 2.37 l
1/2 inch
Glass
5-11/16 in / 144 mm
9-3/4 in / 248 mm
| | |
| --- | --- |
| | Three position toggle switch for convenient on-off control as well as a flushing setting so dry start-up isn't necessary |
| | Heavy wall heat resistant glass reservoirs & sights allow operational temperatures up to 250°F / 121°C |
| | Acrylic reservoir version with heavy walls for long lifespan allows operational temperatures up to 165°F / 74°C |
| | Remote 3/4-16 inch mounting stud and 1/4 inch tubing connections installation make installation a breeze |
| | Long lifespan & leak proof design ensured by silver brazing of all brass construction |
| | Fabricated with clear lacquer finish to resist corrosion |
| | |
| --- | --- |
| Max. Continuous, Operational Temp. | Glass: 250°F / 121°C |
| | Acrylic: 165°F / 74°C |
| Reservoir | Heavy-Wall, Heat Resistant Glass |
| | Heavy-Wall, Acrylic Plastic |
| Oil Sight | Heavy-Wall, Heat Resistant Glass |
| | Heavy-Wall, Acrylic Plastic |
| Gasket | Buna-N |
| Material | Silver-Brazed Brass |
| Needle Valve | Silver-Brazed Brass |
| Finish | Lacquered Satin Finish |