Trico Watchdog Desiccant Breathers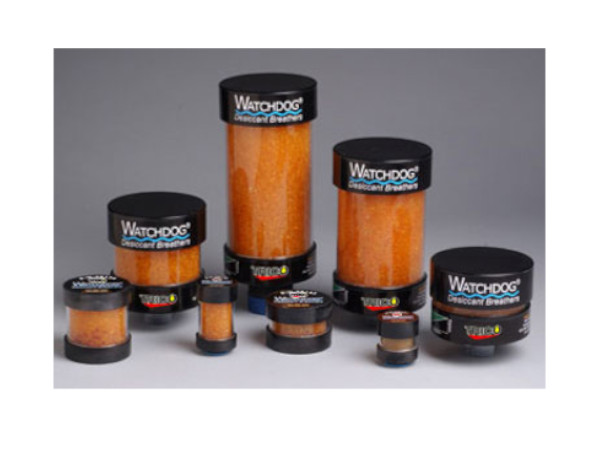 Use the Watchdog Breather to keep machinery free from moisture and contaminants, which cause abrasive wear, shortened lifespan as well as expensive repairs.
The breather contains silica beads that retain moisture from the air as it flows through the unit. For easy determination of time of replacement, the silica changes colour from orange to dark green.
The housing containing the silica granules is constructed in resilient ABS plastic that is transparent for easy inspection of the state of the silica.
Model
Height
Diameter
Connection
Airflow
Fluid Vol. Exch.
Silica Vol.
Water Capacity
Number
inch
mm
inch
mm
cfm
lpm
gpm
lpm
lbs
kg
lbs
kg
39101
6.25
159
5
127
1" Male Friction Fit
20
566
150
568
1.4
0.64
0.4
0.18
39102
9.25
235
5
127
1" Male Friction Fit
20
566
150
568
2.7
1.22
0.9
0.41
39108
11.25
286
5
127
2" Male NPT
20
566
150
568
3.5
2.6
1.3
0.6
39131
2
51
2
51
1/2" Female NPT
5
57
37
140
0.08
0.04
.032
0.015
39132
3.25
83
2
51
1/2" Female NPT
5
57
37
140
0.1
0.05
0.056
0.025
39133
2
51
3.25
83
1/2" Female NPT
5
57
37
140
0.3
0.14
0.104
0.05
39134
3.25
83
3.25
83
1/2" Female NPT
5
57
37
140
0.5
0.23
0.18
0.08
| | | |
| --- | --- | --- |
| | Adsorbs Moisture | The silica is able to adsorb up to 40% of its own weight |
| | Durable | The housing containing the silica granules is constructed in resilient ABS plastic |
| | Visual Indication | At reaching maximum adsorption, the silica beads turn dark green, indicating time for replacement |
| | Environmentally Safe | The silica is chemically inert, non-corrosive and does not contain heavy metals |
| | Dual Filters | The filter at the top clears external particulate from the air, whereas the bottom one reatains dust from the granules |
| | Bi-directional Airflow | As air flows in, particulates are retains. When air flows out, it "backflushes" the filter, prolonging its lifespan |