Trico Constant Level Opto-Matic Oilers – Glass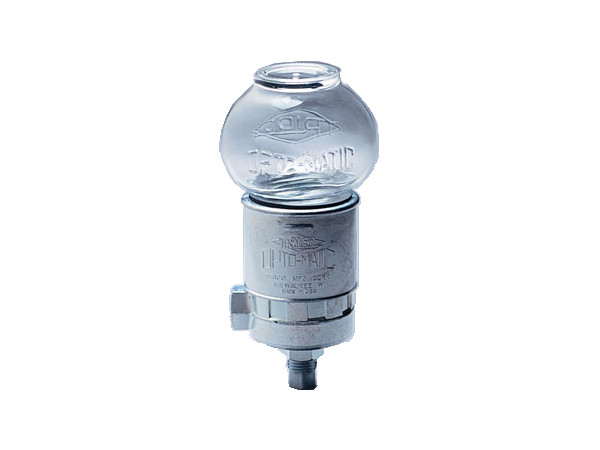 With millions of installations worldwide over the last 75 years, Trico's Opto-Matic Oiler is a time-proven, reliable tool for ensuring precise oil levels in machine bearing housings.
The constant level oiler is now even easier to install and set, using the Trico Opto Laser Level. Try the Laser Level to create an immediate and positive impact on your lubrication program.
For a longer lifespan in corrosive environments of the chemical, pulp & paper and the mining industries, we offer the stainless steel models.
| Model | Construction | Capacity | Connection | Dim A | B (min)) | B (max) | C (min) | C (max) |
| --- | --- | --- | --- | --- | --- | --- | --- | --- |
| 30002 | Zinc Plated | 2-1/2 oz / 75 cc | 1/4 NPT | 2-1/2" | 3-15/16" | 4-1/4" | 11/32" | 9/16" |
| 30003 | Zinc Plated | 4 oz / 120 cc | 1/4 NPT | 2-11/16" | 5" | 5-3/4" | 9/32" | 1" |
| 30005 | Zinc Plated | 8 oz / 240 cc | 1/4 NPT | 3-3/16" | 5-15/16" | 6-11/16" | 9/32" | 1" |
| 30010 | Zinc Plated | 16 oz / 470 cc | 1/4 NPT | 4-1/8" | 6-13/16" | 7-9/16" | 9/32" | 1" |
| 30213 | Stainless Steel | 4 oz / 120 cc | 1/4 NPT | 2-11/16" | 4-15/16" | 5-11/16" | 9/32" | 1" |
| 30215 | Stainless Steel | 8 oz / 240 cc | 1/4 NPT | 3-3/16" | 5-7/8" | 6-5/8" | 9/32" | 1" |
| 30220 | Stainless Steel | 16 oz / 470 cc | 1/4 NPT | 4-1/8" | 6-3/4" | 7-1/2" | 9/32" | 1" |
Property
Value
Max Operational Temperature
250ºF / 121°C Continuous
Reservoir
Glass Bottle in one piece
Casting
Standard: Zinc
Stainless Steel, 316 Stainless Steel
Finish
Standard: Zinc/Chromate Plated
316 Stainless Steel
Internal Parts
Zinc Plated Steel
O-Ring
Viton®
Single piece glass reservoir ascertains proper constant level function. As opposed to other models, no air leaks to cause bearing housing overfill
The Adjustable level setting accommodates a wide range of applications
Designed with multiple air vent slots to ensure continuous and proper functioning
Overflow of oil during machine start-up and shut-down eliminated by the large surge chambers