Trico Streamliner Mi Grease Dispenser
Synchronized Grease Dispenser with Vibration Sensor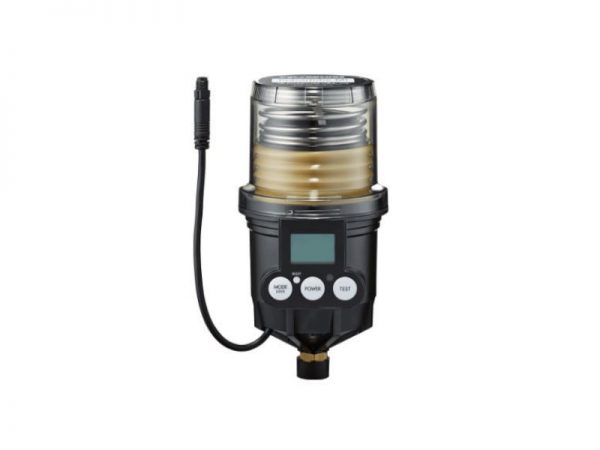 The Streamliner Mi automatic grease dispenser is capable of monitoring the operation of industrial rotating machinery through the usage of a piezoelectric vibration sensor. It will periodically check the operational status of the equipment to which it is attached.
When the Streamliner Mi unit senses vibration from the equipment, it dispenses grease and, conversely, when no vibration is detected, the dispenser automatically goes to standby mode, thus avoiding over-lubrication.
Replacement grease packs of 60cc (2oz) or 125cc (4oz) are available as part of the "Service Pack", which also contain a battery pack and a dust cover. For the grease packs, a choice six standard greases are available. See below under "Product Detail" for a detailed description of the "Service Pack."
Grease Pouch Capacity
60cc (2 oz) and 125cc (4 oz) – replaceable
Power Supply
DC 4.5 Volt – replaceable)
Standard: Alkaline Battery
Optional: Lithium Battery
Normal Operating Pressure
425 psi / 30 kg/cm2
Maximum Operating Pressure
850 psi / 60 kg/cm2
Operating Temperature
Alkaline Battery: -15ºC – 60ºC / 5ºF – 140ºF
Lithium Battery: -40ºC – 60ºC / -40ºF – 140ºF
Dispensing Rates
One to twelve months
Remote Installation
Maximum of 10m (30 feet) with 6mm OD tube
Multi-Point Installation
Maximum 6m (20 feet) with 6mm OD tube
Vibration Detector
Piezoelectric cantilever-type film sensor with adjustable sensitivity
Wire Length
To Lubricator: 1.5 m
Sensor Cable: 1.2 m
Installation Thread Size
3/8″ Male BSPT
Six Standard Greases
1. Mobilgrease XHP 222
2. Exxon Unirex EP2
3. Mobil SHC 100
4. Mobilgrease FM 222
5. Mobilith SHC 220
6. Mobilith SHC PM 460
Connects to the equipment without wiring
Grease is dispensed only when vibration is detected
Install the unit easily by placing the magnetic vibration sensor on any flat surface
Set the dispense rates between 1-2 months
LCD show status
Level of remaining grease is clearly visible through the transparent reservoir
Can service up to eight lubrication points (distribution blocks are sold separately)
CE approved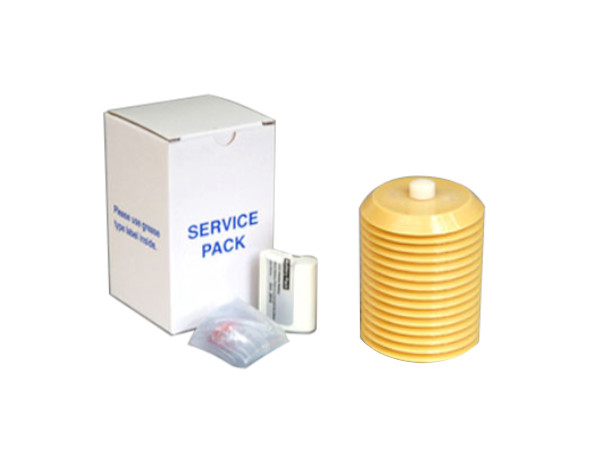 The Service Packs for Streamliner Mi Grease Dispensers consists of grease pouch (60cc / 2oz, 125cc / 4oz, or 250cc / 8oz), a battery pack as well as adisposable dust cover.
Streamliner Mi grease pouch and battery pack must always be changed together to ensure reliable and continuous operation of the unit.
Options
Model No.
Description
Grease Capacity
Grease Type
Thickener
33387
Service Pack
60 cc / 2 oz
Mobilgrease XHP 222
Lithium Complex
33388
Service Pack
60 cc / 2 oz
Exxon Unirex EP 2
Lithium Complex
33389
Service Pack
60 cc / 2 oz
Mobilith SHC 100
Lithium Complex
33390
Service Pack
60 cc / 2 oz
Mobilgrease FM 222
Aluminum Complex
33391
Service Pack
60 cc / 2 oz
Mobilith SHC 220
Lithium Complex
33394
Service Pack
60 cc / 2 oz
Mobilith SHC PM 460
Lithium Complex
33349
Service Pack
125 cc / 4 oz
Mobilgrease XHP 222
Lithium Complex
33350
Service Pack
125 cc / 4 oz
Exxon Unirex EP2
Lithium Complex
33351
Service Pack
125 cc / 4 oz
Mobilith SHC 100
Lithium Complex
33352
Service Pack
125 cc / 4 oz
Mobilgrease FM 222
Aluminum Complex
33353
Service Pack
125 cc / 4 oz
Mobilith SHC 220
Lithium Complex
33354
Service Pack
125 cc / 4 oz
Mobilith SHC PM 460
Lithium Complex
33356
Service Pack
250 cc / 8 oz
Mobilgrease XHP 222
Lithium Complex
33357
Service Pack
250 cc / 8 oz
Exxon Unirex EP2
Lithium Complex
33358
Service Pack
250 cc / 8 oz
Mobilith SHC 100
Lithium Complex
33359
Service Pack
250 cc / 8 oz
Mobilgrease FM 222
Aluminum Complex
33360
Service Pack
250 cc / 8 oz
Mobilith SHC 220
Lithium Complex
33361
Service Pack
250 cc / 8 oz
Mobilith SHC PM 460
Lithium Complex
| Feature | Alkaline | Lithium |
| --- | --- | --- |
| Operating Temperature | -15°C – 60°C / 5°F – 140°F | -4°C – 60°C / 40F – 140F |
| Multi-Point Capability | N/A | Up to 8 lubrication points |
| Remote Distance | 6 m / 20 feet or less | 10 m / 30 ft or less |